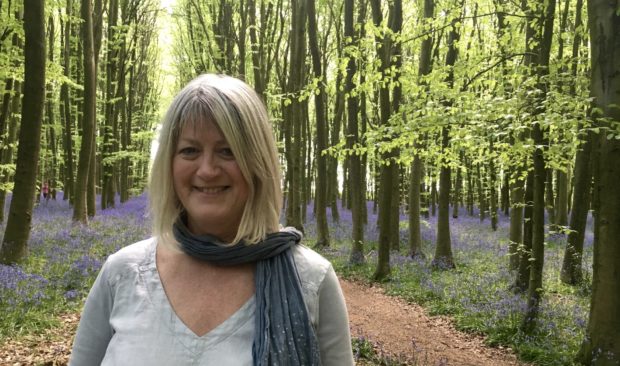 Julie Parker BSc, MSTAT
Born and schooled in Zimbabwe, I followed a degree in Mathematics from the University of Cape Town, with a career in Investment Fund Management. Continual headaches combined with an interest in self development and in working with the body, led me to the Alexander Technique.
I was so excited by the transformation this wrought, that I decided to undertake the 3 year training to become a teacher.
During this time, I moved to the UK, and financed the remainder of my training working in the finance sector in London. I trained with one of the most prestigious protégés of FM Alexander himself, qualifying in 1989. Since then, I have taught the Technique to many different people from all walks of life.
I have worked with businesses such as BP International, Johnson and Johnson and Amersham International, and at the Harley Street Clinic and the Sarah Key Back Pain Clinic in Central London, as well as  teaching on the Hampstead Alexander Training course and running a private practice in Hertfordshire.
After moving to Cumbria, I worked on the Teacher Training course, within the NHS, teaching at our local surgery, and within the performing arts, teaching Alexander Technique to 58 music and drama students at LIPA (Liverpool Institute of Performing Arts).
I now live and work in York. My major client is the University of York. I offer Performance Coaching and Alexander Technique Lessons to both undergraduate and post graduate students in the Department of Music, and have worked with staff across many different departments, including IEE (Institute for Effective Education), Health Sciences, Technology, History, Energy Conservation and Music.
I have been commissioned to run pilot Action Learning Coaching Sets in Leeds, Sheffield and York for the WRoCAH (White Rose Foundation) PhD students in 2018.
Knowing only 2 people in York when I arrived in 2011, I am now invited to give talks, workshops and presentations to various groups of both staff and students within the University (see Talks & Workshops page for details), including being the guest speaker at the 2018 Researchers Day.
I have also had a research contract with the Health Sciences Department, working on the ATLAS Clinical Trial – a £720,000 three year trial investigating the effectiveness of Alexander Technique and Acupuncture as interventions for Chronic Neck Pain. Results of this trial were published in 2016.
I continue to run a Private Practice and to give workshops and talks on the Alexander Technique, both nationally and internationally, and am an occasional guest teacher at the York Alexander Training School.
In 2007 I undertook an accredited Relational Dynamics Coaching Course (an ILM 7 accredited course through Coaching at work, qualifiying with distinction). The course differs from traditional coaching skills training and expands distinctly into the arena of relational dynamics (our interactions with and understanding of, self and others). The training is multi-functional and can be used to enhance leadership, facilitation and mentoring skills in addition to qualifying one to practise as a Relational Dynamic Coach on a 1-1 basis.
My coaching clients come from diverse backgrounds, and include international clients up to University Deputy Vice Chancellor level (Victoria University, Melbourne, Australia – see my Linkedin page for his Coaching Recommendation – https://www.linkedin.com/hp/?dnr=w8KsRr40BdgxgJ-4yxFDRYsHKLzIlJcGp_a5)
My diverse experiences of life and work in different continents, cities and working cultures have given me a deep understanding of change management and empathy for the challenges which this presents.
I have had a life long interest in spirituality and self development, and continue my own personal work in these areas with on-going study, mentoring and meditation – I have more than 20 years' of working with an embodied mindfulness meditation practice. I have regular coaching supervision and CPD in Alexander Technique.
It is my experience (gained over 25 years of working), that all these aspects of study create a powerful alchemy, and allow me to facilitate growth, creativity and change at a deep level, both in myself and others.
To arrange a talk, workshop, or individual lesson, or an introductory coaching session,  email me or phone me on 0784 171 2942.