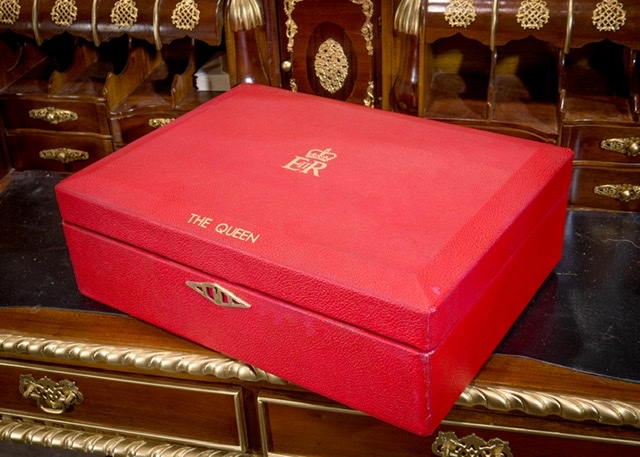 I often have good ideas. It is not so often that I manage to be effective in bringing those ideas to fruition, especially in timely fashion!
I have started watching The Crown, and was inspired by the concept of the Queen's Red Box of daily dispatches. Colour and image inspire me, and I decided I could choose to use The Red Box as a way of keeping on top of things.
Because I am self employed, I have always had to manage my own diary. I am good at doing one off creative things, and less good at keeping on top of things on a daily basis. So these are some of the things that I am putting in my daily Red Box:
Julie's Daily Dispatches Red Box
Have a 20 Minute morning 'meeting' time straight after coffee/breakfast to check important things for the day
Check emails and delete unwanted
Check for important news (time 5 mins to skim and stick to it!)
Check Twitter & Linked in – time for 10 mins and stick to it!
Update 'To do' list based on the four quadrants from Steven Covey's '7 Habits of Highly Effective People':
1. Important and Urgent
2. Important and Not Urgent***
3. Urgent and Not Important
4. Not Urgent or Important
*** Note that Covey states that Highly Effective People spend more time doing things from Category 2 – Important but not urgent. And also note that I have not figured out how to do embedded bullet lists, but as that would often distract me from finishing this post I am leaving it, and welcome advice from readers!
20 Mins Housework (Read my blog on the 20 Minute miracle here: http://www.creativetransformation.org.uk/the-kiss-principle/
20 mins on work Development (Important but not Urgent)
10 mins exercise
Do something nourishing


Feel free to comment/share your own Red Box ideas, and share with your friends! Being on lockdown means I need to communicate more on Social Media, so you can follow me on Facebook, twitter and LinkedIn. And I have taken my allotted 10 mins to find out how to add the URLs here and failed – only have ipad. So feel free to advise me, but I'm posting this anyway!
F: creativetransformation
T: @creativetransfo