University of York
Since moving to York in 2011, most of my work has been with the University.  Here are the things I do there:
---
Individual and group sessions and Masterclasses to music students, with the aim of maximising performance potential in both music and life.
---
WROCaH – White Rose College of Arts and Humanities funded PhD students
Action Learning Coach for students in York, Leeds and Sheffield
Coach and trainer for PhD colloquia
After dinner speaker for 2018 Summer Colloquia
---
Campus Wide Talks and Workshops – using the unique combination of Principles from Alexander Technique, Coaching and Embodied Mindfulness to address the following:
Working ergonomically to prevent pain and injury
Presence and Poise – craft effective, powerful presentations
Conflict Resolution – meeting everyone's needs at least cost
Developing habits of resilience
Reflection on the Year
Weekly free stretch and Meditation session
---
I am offering staff discounted one-to-one sessions and I'm usually available on campus during working hours three days during the week.
---
FREE MONDAY MORNING STRETCH AND MEDITATION
I also run free stretch and meditation half hours 
at 9.00 am
 on a Monday morning in D/003, Block D of the Sally Baldwin Building, in the Department of Music. Contact me if you wish to attend.
Leeds Arts University
I am the Alexander Technique tutor on the BMus (Hons) in Popular Music at Leeds Arts University. They recognise that being able to perform well long term depends on developing good habits of use of body and mind.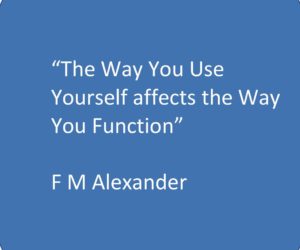 Research
I was a practitioner on the large scale ATLAS Trial run by Health Sciences at the University, also assisting with refining the questions for the Alexander Technique section of the trial. The Trial examined the use of Alexander Technique and Acupuncture in treating Chronic Neck Pain. Results of the Trial can be found here:
https://www.york.ac.uk/healthsciences/news-and-events/news/2015/atlas-trial-results/