---
Reflection on the Year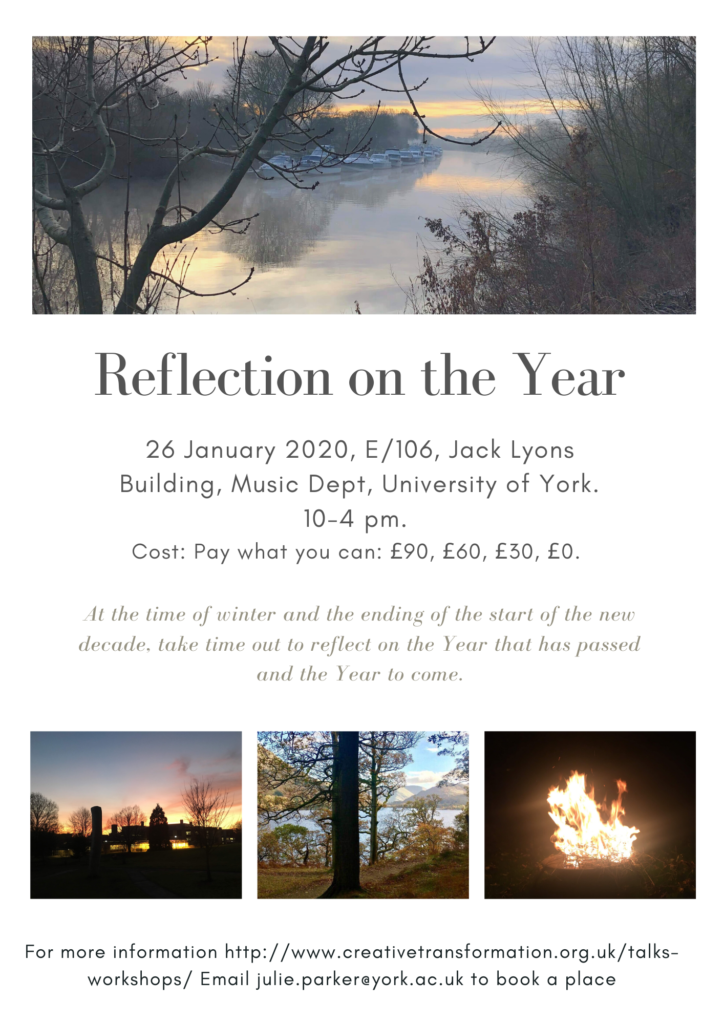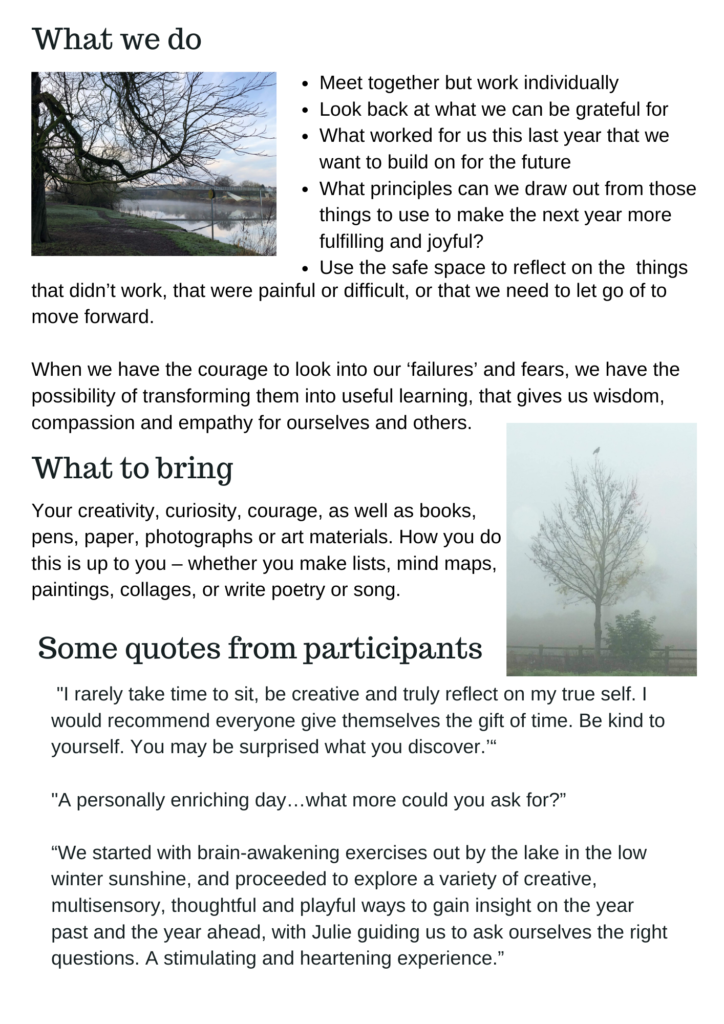 ---
This is what previous participants have said:
"Are you afraid that this year will be a re-run of last year with associated anxiety, worry and stress? Have you jumped on the treadmill and are getting further into a rut? Why don't you be kind to yourself and take a day out to think, really think, about who you are, what you do, how you do it and what you want the next year to look like?I attended Julie's 'Reflection on the Year' and it allowed the time and space to dig deeper on what is working and what is holding me back. I rarely take time to sit still, be creative and truly reflect on my true self. I would recommend everyone give themselves the gift of time. Be kind to yourself. You may be surprised what you discover.'"If you don't design your own life plan, chances are you'll fall into someone else's plan. And guess what they have planned for you? Not much." Jim Rohn
---
Fiona Frame, BSc(HONS), PhD, MRSB, PGCAP, FHEA
"With some trepidation I attended the reflection day Julie held in December, it felt slightly out of my comfort zone but I'm so glad I did. I found the afternoon a full filling experience in so many ways, it opened up my creative side in a way I'd been promising to do all year (and hadn't!) and gave me the space to think about where I am and where I want to be. I learnt it's much easier to be insightful about others and what they need, than about myself…that's the hard part…obviously a work in progress.
---
A personally enriching day, great people and a little bit of dancing thrown in as well…what more could you ask for?"
Jane Gulec, Project Co-ordination, York Management School
---
"We started with brain-awakening exercises out by the lake in the low winter sunshine, and proceeded to explore a variety of creative, multisensory, thoughtful and playful ways to gain insight on the year past and the year ahead, with Julie guiding us to ask ourselves the right questions. A stimulating and heartening experience."
Catherine Jardine Research Development Manager, University of York
Please contact Julie on julie.parker@york.ac.uk or 0784 171 2942 to book a place.
---
Lesson from the King's Speech in how to find your Voice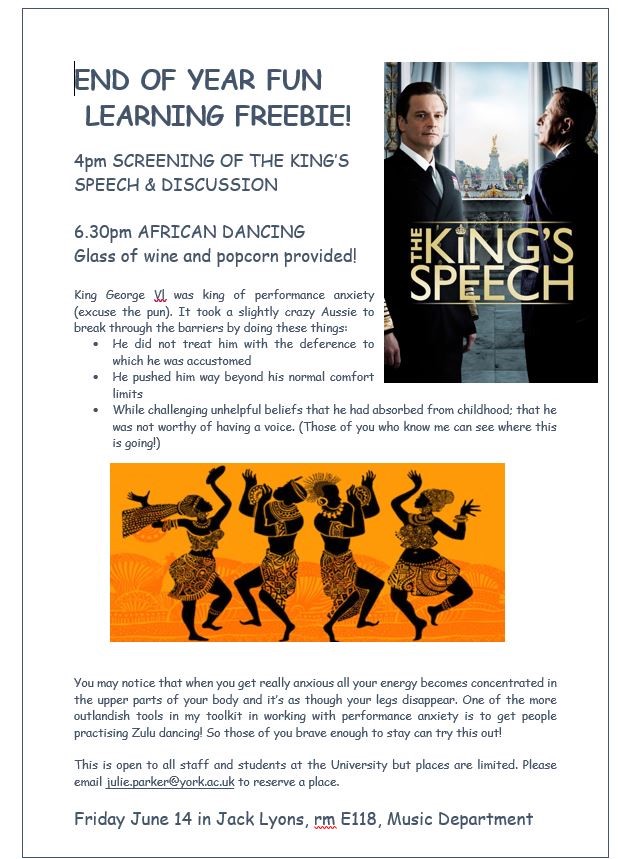 Switch off & Connect 4 day retreat
7 – 10 May 2019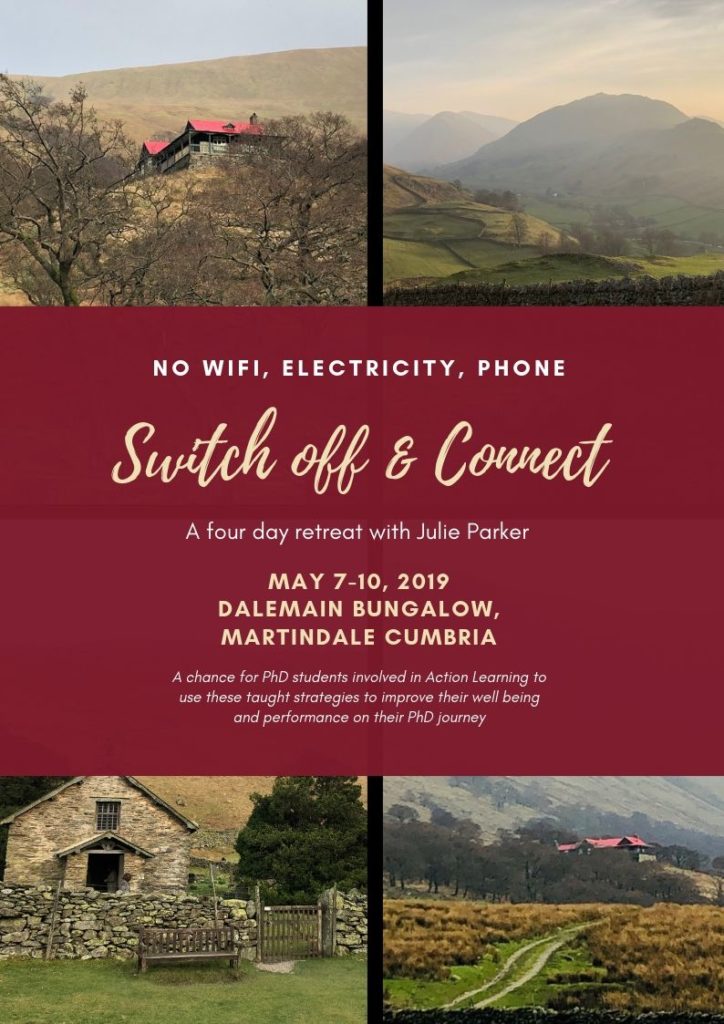 ---
ACTION LEARNING TASTER DAYS
Purpose:
• To understand the principles and practice of Action Learning (Peer group Facilitated Coaching)
• To understand and practice different levels of listening
• To Understand and practice using Effective Enquiry (Open Questions)
• To experience an Action Learning set
• To reflect on the learning from this process.
Survive or Thrive? Skills for life and work:
Ongoing Series of talks and workshops at the University of York
---
Start the Week – Mondays 9-9.30am, Room E106, Jack Lyons Building (Music Department)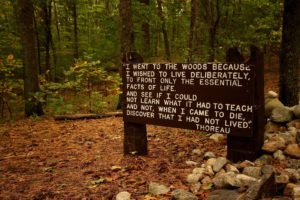 The quote continues: "I did not wish to live what was not life, living is so dear; nor did I wish to practise resignation, unless it was quite necessary. I wanted to live deep and suck out all the marrow of life, to live so sturdily and Spartan-like as to put to rout all that was not life, to cut a broad swath and shave close, to drive life into a corner, and reduce it to its lowest terms…"
I do these sessions because I want to live deliberately and live deep. We can't all go to live in the woods but we can help ourselves live deliberately.
Join me for a free half-hour session where we will warm up physically and energetically then take a short time to quieten our minds with some meditation. Please contact me if you wish to join these sessions, as you will need to be let into the building.
e:julie.parker@york.ac.uk or m:0784 171 2942
Click to listen to a mindfulness meditation:
---
---
Working ergonomically to prevent pain and injury
Many of us spend several hours each day seated in front of a computer. It is, of course, important to make sure your work stations are set up optimally. However, it is possible to misuse your body, however fancy your chair, and this can lead to back aches, headaches and repetitive strain injury.
The session will explore:
How to sit, stand and move in balance
How to use technology wisely
How our thoughts impact on our bodies
---
Please contact Julie on julie.parker@york.ac.uk or 0784 171 2942 to book a place.
---
Workshop: Presenting with Presence, Power and Poise
Giving a presentation is necessarily a matter of the whole self – mind, body and emotion. Even if you have prepared content of dazzling brilliance, you need to be clear, articulate and authentic in order to impart your ideas to your audience.
In this workshop, you will discover strategies that:
Enhance our use of our physical body and voice
Mitigate the difficulties we may encounter with our minds and emotions
Assist in overcoming performance anxiety
This will be a practical, interactive workshop, although you are also welcome to just come and observe.
The skills you will learn are also extremely useful for other interactions such as:
interviews
vivas
managing meetings
giving performances in music and drama
Participants said:
The three things I learned are:
– presentations are all about presence which comes from your whole self. If you don't have that, people won't care about the content.
– your whole body has to be engaged in the presentation to be able to look and sound your best / relaxation and paying attention to yourself.
– forget about what you think other people might think / ignore other people's agendas / this is a waste of time and energy and prevents you from being authentic.
I also learned that:
– it is easier to be joyful than I thought
– I really enjoy interacting with different people
– it is very nice to feel supported and encouraged
Fiona Frame, BSc(HONS), PhD, MRSB, PGCAP, FHEA
"People are more than what you see on the surface. That's one thing I have learned. We opened up and revealed our-self to each other, unveiling our mask and our fragility and finally be our-self, without any judgement or prejudice.
Secondly, the solution is inside us. We don't need to go too far. We should really connect with our being and remind us what our best-self is.
Thirdly, there is no shortcut. We should practise to gain consistency. And, more importantly, we should enjoy every single moment of our life. So, I think that's the fourth"
Federico Pendenza BMus, MMus in Classical Guitar Performance, Student in MA in Music Education and recently arrived from Italy.
---
Please contact Julie on julie.parker@york.ac.uk or 0784 171 2942 to book a place.
---
Conflict resolution/Living in harmony – meeting everyone's needs at least cost
Our ability to thrive in life depends to a great extent on our ability to manage potential and actual conflict well.
In Julie's many years of working, much time has been devoted to this topic. Many couples argue vehemently over such things as money and children, but when we explore deeper, the issues in question are often to do with fear, vulnerability, not feeling heard, or not feeling valued.
This talk will explore how it might be possible to get everyone's needs met, rather than polarising into opposing sides. It will investigate:
The difference between needs and wants
The impact of our thoughts and beliefs ("we will always find proof for what we believe")
How fear and vulnerability distort our perceptions and make us behave in an unhelpful way
How to speak so that we are more likely to be heard and understood
How to own our emotions and not fall into the blame game.
---
Developing habits of resilience
This talk will look at strategies for developing habits of resilience and some of the habits we currently have that undermine our potential to live joyful, fulfilled and meaningful lives.
Contact Julie if you would like to book a bespoke talk or workshop for your department/office on these or other topics: julie@creativetransformation.org.uk.
Individual sessions are also available by arrangement.