RE-VISIONING LEADERSHIP: LESSONS FROM CONNECTING IN THE WILDERNESS
June 5-9, 2023
A Wilderness Retreat in the Imfolozi Game Reserve with Sicelo Mbatha and Julie Parker
ONLY 2 PLACES LEFT!
The Wilderness offers unique and powerful lessons for leadership and connection.
You may be a leader of an organisation, business, or team, or you may be a thought leader, an entrepreneur and innovator, or a leader of individuals with whom you interact.
What Are the Qualities of a Good Leader?
1. Honesty and Integrity:
2. Inspiration:
3. Communication skills:
4. Vision:
5. Never give-up spirit:
6. Intuitive:
7. Empathy:
8. Objectivity:
9. Intelligence:
10. Open-mindedness and creativity:
11. Patience:
12. Flexiblity:
13. Welcoming of Difference & Complexity:
14. Passion:
15. Vulnerability:
16. As attentive to their own well being as that of their followers:
I found an interesting list of 12 qualities of a good leader. I added four more. But it is the last quality that I would like to highlight. I have worked with many leaders who embody the first 14 characteristics, yet somehow lose sight of the last:
"A good leader is attentive to their own well being as that of their followers:'
Many of us have grown up with the admonition "Think of others before yourself". Yet to maintain leadership over the long term, it is vital that we nourish our own mind, body and spirit.
My vision is to create a space for those of us who work with others to do just that, while learning from nature, from our guide, and from each other.
Moreover, the pandemic was powerful proof of our global interconnectedness, and I believe that true leadership for today needs to embody that interconnectedness, both with nature, and with one another. Here is a chance to put that into practice.
I have also seen the benefit of working with difference. My vision is to attract both people of maturity, experience and wisdom, and also passionate young people who have a different understanding of the order of things, and of how we need to embrace technology in Leadership.
About the Retreat Leaders:
SICELO MBATHA
My name is Sicelo Mbatha; my wilderness name is Black Lion. I am a spiritual nature guide, working through my organisation Umkhiwane Sacred Pathways. Nature has always been my spiritual home, my medicine and my teacher.
I have dedicated my life to fostering deep connections between humans and nature. I believe that this medicine is needed to heal the world from the wounds of environmental destruction and social injustice.
I am the black lion who helps people discover the wild animal within.
I am the black lion who roars for peace and harmony on the great mother earth.
I am the black lion, alive in the wilderness.
Why this Retreat, now? Through these uncertain times, human souls have been hammered by emotional conflicts and inner battles. As a wilderness guide, I have been lucky to embrace and dance with the wilderness, helping me to find healing and forgiveness to myself, and to live simpler and happier. I would like to share this wisdom so we can live in harmony with one another and respect our earth.
And I am glad to have a connection with Julie since we walked in the Wilderness together and to be able to share our different experiences and gifts with you at this time.
https://www.umkhiwanesacredpathways.com/
Email: healingpaths69@gmail.com
Ph: +27763908201
'Walking the wilderness with Sicelo has been one of the highlights of my life. His profound wisdom, sincerity and humanity – his respect for, and connection with, nature and animals brought a light to my heart, and made me believe in the possibility of a deep connection to life. And that brought me great joy.' EM
JULIE PARKER

About Me: My own journey has brought me to York UK, from the big skies, open landscapes and heat of Zimbabwe, via the vibrant culture and scenery of Cape Town, the intensity of Big Business London and the lush green rolling hills of the Lake District.
My life has been one of contrasts, from the logic and certainty of my Maths degree, followed by a career in finance to the intuition and creativity behind my training and work in Alexander Technique, Coaching and Embodied Meditation.
I have lived a varied and complicated life, and the mistakes and losses I have suffered, have taught me compassion and empathy for the journey of others. I know deeply that life is not always easy, and that despite an internet culture of instant gratification, a worthwhile life is like a tree – it needs water, sunlight, earth, roots, care and time to grow and flourish.
I have been working with myself and others for more than 30 years on this journey, slowly growing my wisdom, skills and intuition to be able to help others find a path ahead that includes more joy, fulfillment and compassion for themselves and others.
Why this retreat, now? I am so grateful and blessed to have met Sicelo on a Wilderness Trail in 2015. I was amazed and drawn to his obvious deep connection to the wilderness and the animals. He would say 'I feel a rhino' and sure enough, a few minutes later, a rhino would trot into view! And I loved his respect for them as he would greet them and thank them for their presence as we left.
And since then, even though we are 10,000km apart, I would often find a whatsapp message of support from him, just when I most needed it. I love that intuition is no respecter of distance and time! Ever since that trail, we have been trying to find a way to work together, to share our respective gifts and experience, and now it seems the time – it is a time when I am also re-visioning my future purpose. I see my role in this retreat as lightly holding the vision for us all, while Sicelo will be our guide and teacher along the journey.
Email: julie@creativetransformation.org.uk
Ph: +44784 171 2942 (use whatsapp!)
'You are great at helping people to release themselves from..well..themselves, and you have enough vulnerability and empathy for that process to always feel appropriate…and something you have experienced. Finally, you have a big heart, and that shows in so much of what you do.'JB
'I am so grateful to Julie for teaching me about intention and the power it has… and for helping me find stillness and quiet in a supersaturated world' AB
Details of the Retreat:
What is included?:
All equipment and food
Transfers from Durban airport (participants are free to make their own way to the trail but costs will remain the same)
The first and last nights will be in camp.
The two middle nights will be sleeping under the stars in the wilderness.
Participants will take turns to sit in solitude by the fire for an hour each night, at times circling the camp to ensure freedom from danger
Investment:
South African participants: ZAR 10,865
Non- South African participants: ZAR 17,575 (Current GBP to ZAR exchange rate is 21.7 to 1. )
Please contact Julie or Sicelo to book a place. Please note – an immediate deposit of 50% is payable to secure a place. They will give you details of further payments and conditions for refund/cancellation.
Further details of suggested clothing, and exact times of meeting and parting will be provided on booking, but if you have any questions in the meantime, please do not hesitate to contact either Sicelo or Julie with the details they have provided.
Switch off & Connect 4 day retreat
7 – 10 May 2019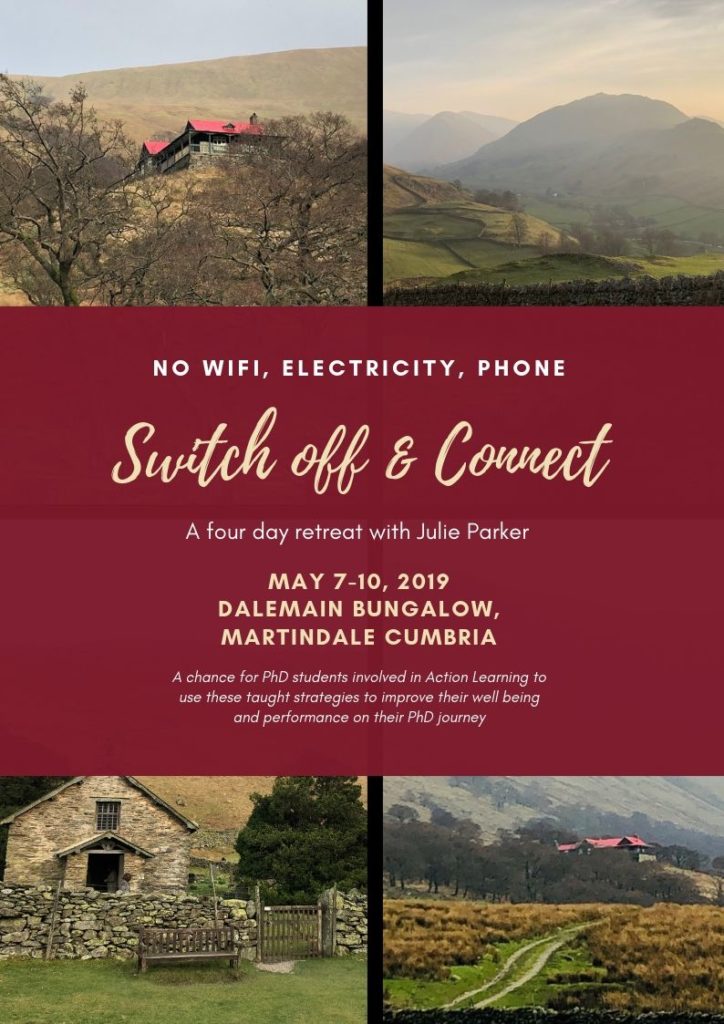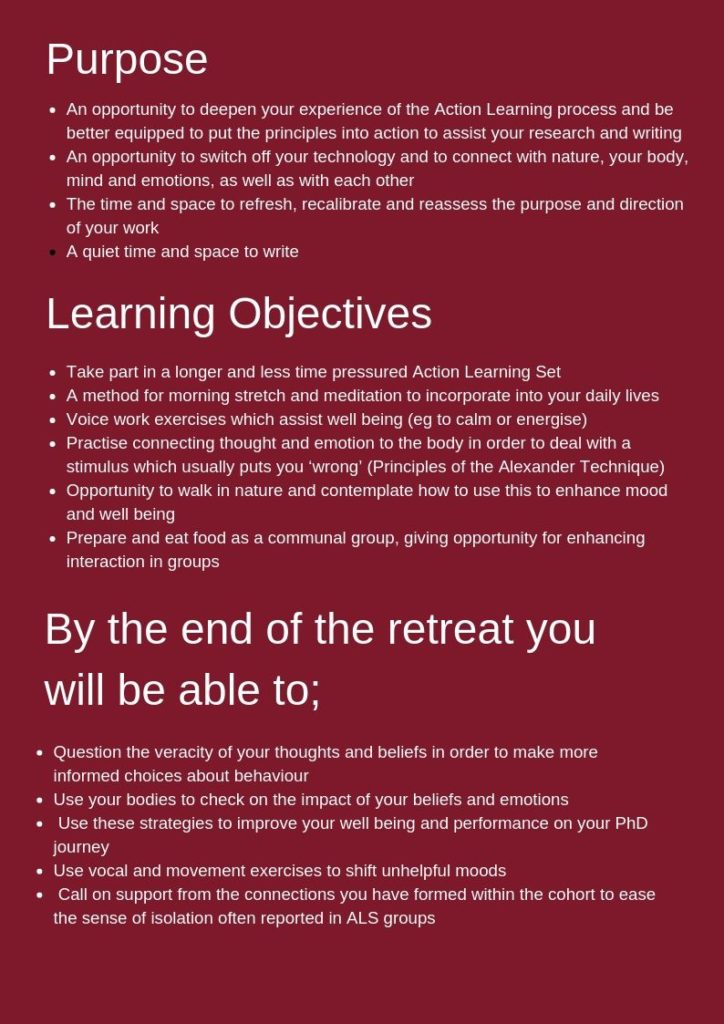 ---
A Year of Transformation: Action Learning in Practice
19-21 November 2021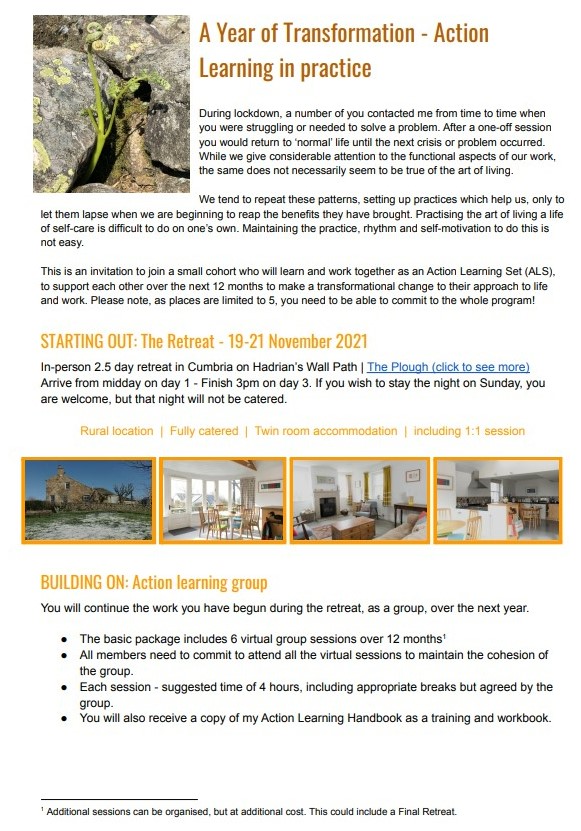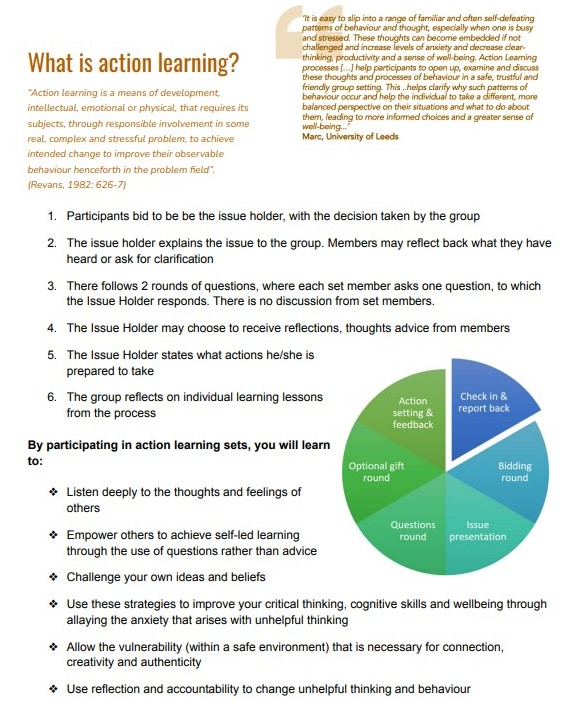 ---
Connect & Dance with Life
1-3 April 2022