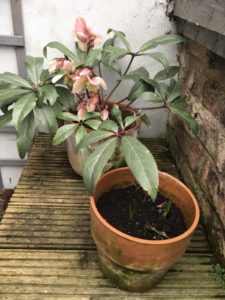 It's a 'dead' February Sunday morning – a sunless, muted chilled day. The kind where it is easy to descend into melancholy and retreat into oneself. I am sitting on my patio in socks, pyjamas and winter coat drinking my morning coffee, listening to Janis Ian and contemplating.
My gaze lights on the terracotta pot that one of Anna's friends accidentally broke, which now looks sad and dilapidated.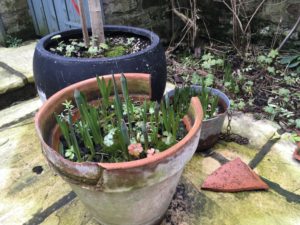 And my gaze softens and widens and instead of the broken pot I allow myself to see what's in it and in the mass of winter dead leaves in the bed beyond.
And I realise that I have not really been paying attention in the last few weeks of morning coffee drinking, because there in the ground are the first signs of Spring.

I've been talking to clients a lots recently about growth, and about spring bulbs – how we plant them in Autumn and then see nothing for months – but how in that dark, hard ground, something is happening. That without that time of winter – of darkness, of bare-ness, of hibernation, the bulbs don't have the necessary strength and energy to find their way through the earth and up to the light in order to blossom..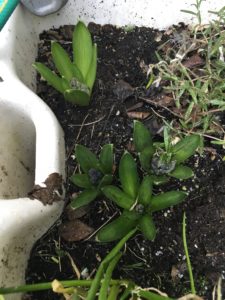 And I realise that wherever I look in my tiny garden, the signs of growth are everywhere – I just haven't been really looking. And like the hyacinths that are budding in the safety of their leaf nests, my flowers of creativity are budding and ready to bloom.
I have been doing some work on website recently and came across quite a few blogs that I started and never published. I notice that for years I have been having ideas about things I want to write, to offer as workshops, and I have got some way to making them happen and then they have sat dormant. And just as I had the idea of this blog and walked inside and made it happen, so I realise that I am making all sorts of other plans, dreams and schemes happen organically – with energy but without forcing, and I notice by paying attention, that my creativity is budding and in the process of blossoming, because of all the surreptitious growing that has been going on in the dark.
And I realise that it no longer bothers me if I can't see the sun because the light is inside me, and I am deeply happy…