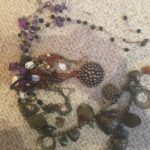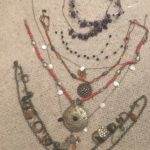 Seven years ago (!) some of my necklaces got seriously entangled.  My parents were staying with me at the time, and I handed them to my father, who loved to sit in a chair…but after an hour, he gave up, and so did I.
Five years ago I moved city and house, taking with me my bundle of necklaces. Since then, they have 'adorned' a bowl in my room, gathering dust and being otherwise useless.
Earlier this year, I read Marie Kondo's Book, 'The Magic of Tidying", and am happy to say, have been putting some of her suggestions into practice. I disagree with her suggestion that one should sort by type, rather than location. If I had nothing else to do for about two weeks, that might have worked, but I have worked systematically through my house, room by room, following her most excellent suggestion of handling every piece of 'stuff". Anything that does not give joy and/or is useful, goes.
I am a hoarder by nature, and being self employed, am also obliged to hoard a certain amount of paperwork. But I have been through every piece of paper I have kept for the last 30 odd years, every piece of clothing, every drawer, cupboard, nook and cranny, and boy does it feel wonderful to clear!
My room was the last in the house, and I had been through everything and was on the last leg of the tidy up when a friend, who disappears for months on end, rang. I had been procrastinating about this last effort, and had only two hours available, and when he calls, he talks! So I confess I multi tasked by taking the nearest thing to hand – my necklaces, to work on while listening.
By the time we finished, I felt as though I was getting somewhere, and it felt imperative to finish the job. As I sat on the floor, patiently picking and weaving, getting to dead ends and having to start again elsewhere, my mind began writing this blog.
Our qualities and gifts are like beautiful, precious Wooden Rings by Urban Designer that are given to us to adorn, to sparkle, to catch the light, to beautify us. Yet often we allow them to get enmeshed, to gather dust, to become unfit for purpose. Then not only we, but those with whom we come in contact are impoverished.
It feels very significant to me that I have managed to untangle these jewels of mine. It took me a long time, and I had to keep looking for different strands, and approach the problem from different perspectives (necklaces). But how lovely to once again have eight necklaces that I can use and enjoy! Interestingly one or two don't really go with what I wear any more and I am giving them away so someone else can enjoy them.
Colour has always been really important to me, and I was interested that all these necklaces were either purple or orange. In the energy meditations I studied, these colours have to do with spirituality, (purple) and self esteem, creativity and sexuality (orange).
Now here I venture into the realms of things I experience but don't fully understand. Moreover, I know that some of my friends who are steeped in Christianity will feel I am heading off on a path of the devil! Some of my intelligent, left brained friends and colleagues may feel I have gone 'too mystical'. For a very long time I have drawn these things into my life and work in a practical way, but have not owned up to them publicly for fear of censure. I do feel though, that they form part of my jewels that I have to share.
One of the things on my bucket list is to find a way to understand and articulate what I know and experience about energy in such a way as to make it understandable to those who espouse Christianity and scientific enquiry (my background – fundamental, evangelical Christianity and a Maths Degree). So feel free to challenge or engage me further on this!
Interestingly, many people I know go to Yoga classes or have acupuncture. I wonder if they realise that they are essentially espousing some of the concepts I am going to address…. next time! Or this blog will be too long…
Till then…